What caught my attention in weeks thirty-two to thirty-four, 2023
In continuation to week 31, here are a few thoughts and things that caught my attention in week 32 - 34, 2023: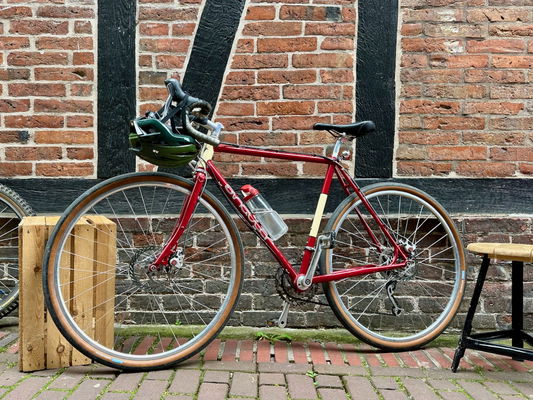 🏖 Just before our family vacation we were all sick (cold) or someone broke something, but somehow we managed to travel to the Baltic Sea. Actually, we are more of a bike-hiking family that is drawn towards the mountains, but this summer we had the opportunity to house-sit for friends, which we gladly accepted. Vacations with a dog have to settle in anyway, and biking vacations aren't possible with her for now. (So far we don't want to put our dog in a pension or similar.) The long journey was - as usual for the Deutsche Bahn - chaotic. Two of our previously booked connections were canceled in advance without replacement, we had to spontaneously reschedule on the way and change trains in Hamburg, which we actually wanted to avoid. There, of course, we unexpectedly ran into a CSD demo. Incredibly many people at the main station. There was no forward and no back - our dog was visibly shocked by the "interestingly" (for our dog) dressed people, but she mastered it brilliantly. The vacation was stormy and rainy at first, but very relaxing and we were able to recover well. After our return, my wife and I went straight to Cologne for a party and I then went to Bonn for a three-day conference.
Nevertheless, there were some tech-related things that caught my attention during the last weeks as well:
And of course there were some macOS and iOS apps I've stumbled upon:
🗿 Some Obsidian related stuff:
There were some micro.blog related "news" as well:

📝 Scribe - A Micro.blog Editor was released.
🖼 Pixelfed cross-posting was added to Micro.blog - This joins our existing set of cross-posting services like Mastodon, Tumblr, Flickr, Bluesky, Nostr, and others. I still wish there was an option to cross-post per post, rather than an all or nothing approach.
✏️ I had my first use case for Micro.publish - an Obsidian plugin to publish notes directly to Micro.blog, written in TypeScript by Otávio. Awesome plugin!

Web related stuff and some other things:
🎙 Not that much podcast listening in the last three weeks:
TV and Movie:
🙋‍♂️ Okay, it was nice not to sit in front of a Mac for three weeks more or less, but I hope that I will manage to write my Weeknotes weekly again and keep them shorter. Thanks for reading and maybe see you next week.